PASTEL PINK TO BUBBLE-GUM PINK
Lot: Tourmaline-48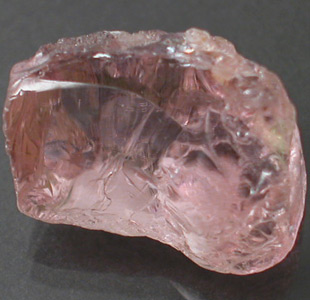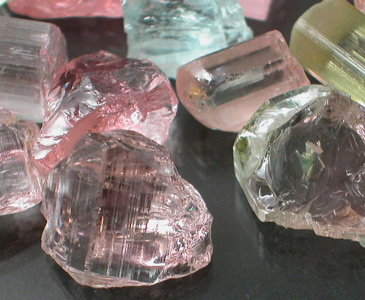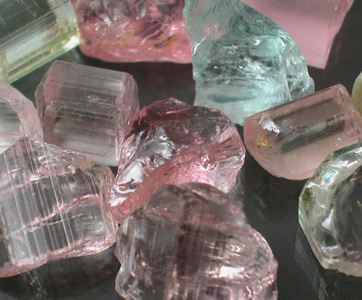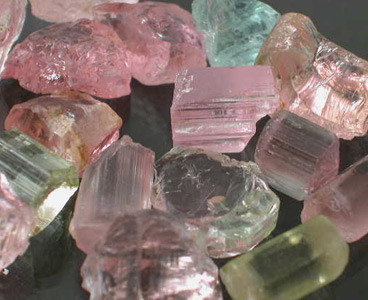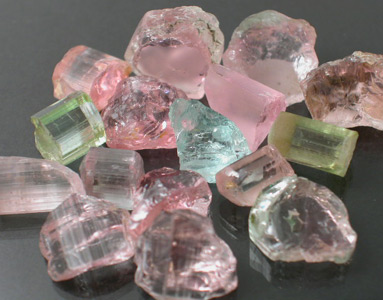 PLEASE NOTE THAT IT WAS A LITTLE DIFFICULT TO GET THE SATURATION LEVEL DOWN EXACTLY FOR THIS
LOT AND THE ACTUAL MATERIAL IS MUCH BETTER THAN THE PICTURES ABOVE INDICATE!
COLOR:
Pastel Pink, Bubble-Gum Pink, Hot Pink, Pale Pink, Minty Turquoise, Yellow Pink Bi-colors
CLARITY:
Will cut slightly included to flawless stones (90%+ Medium to Top Facet Grade)
ORIGIN:
Kunar, Afghanistan
SIZE:
Stones range in size from approximately 3.9 to 9.9+ Carats (6.10+ Carat Average)
WEIGHT:
97.61 Carats (16 Pieces)
19.52 Grams
PRICE:
$390.44 ($4.00 Per Carat / $20.00 Per Gram)
DESCRIPTION:

Spectacular lot of Pastel Pink to Bubble-Gum Pink and Hot Pink Afghan Tourmaline Facet Rough. Please note that there is 1 Minty Turquoise Blue stone and 2 stones that have a Lime Green exterior and a Pink core. This is NOT that Brown Nigerian and Tanzanian Tourmaline but a pure Pink and most of these are nice chunky crystal sections that are extremely clean. There are minor inclusions in many of the stones that will need to be worked around; however, this is TOP caliber material with almost every stone capable of producing a nice eye-clean to very slightly included finished gem. We have cobbed and sawed these to get them as clean as possible. These are some of the largest Tourmalines we have up at the moment and the price just doesn't get any better!

This is the material that you see retailing for $10.00+ per carat! This is TOP faceting grade material having almost every bad stone picked out and there are quite a few killer pieces in here. We are confident you will get some large finished gems out of this lot that will leave you breathless!!

COOL FACTS:

Afghan Tourmaline pockets tend to be relatively small in size and as a result consistency in color & quality is a rarity! We have never seen Afghan Tourmaline sold by the kilo with like colored and quality material and lots are generally small in size seldom going over 1/2-1 kilo.

All Afghan Tourmaline is exhumed from primary deposits and as a result mining costs are considerably higher due to dynamite expenditures and traveling expenditures to get to remote mining areas. It is also interesting to note that since all Afghan Tourmaline is from primary deposits most rough will usually have sharp crystal faces.