"STONED" - PAKISTAN EDITION
Vol. 1 - No. 2
This is our new Direct Offer E-Zine "Stoned." We will "experiment" by sending a few of these out from time to time and see what the results are. Based on those results we will either continue with the E-Zine or stop it altogether. We will not post a lot here on future issues and they will generally be limited to one lot or a few lots of larger size. We would prefer to sell these lots as single lots and have priced them accordingly. These lots generally will NOT be added to our website or on future E-Newsletters as single lots if they do not sell here. We will probably break them up into smaller parcels and compensate for doing such by increasing the price accordingly. The best way to insure you get the cheapest prices available are by purchasing the larger parcels; however, we realize that is not possible for all and that is why we list smaller sized parcels on the site and E- Newsletters.
This is our first issue from Pakistan and as such our Pakistan Shipping Policy applies. There are no refunds on the below items and payment must be made as per the terms on our Payment Policy page for Pakistan direct purchases.
We always like to hear back from you so please feel free to email us with any suggestions, requests and/or comments you may have!
ENJOY!
BUBBALICIOUS PINK
Lot: Pak-SpinelStoned-1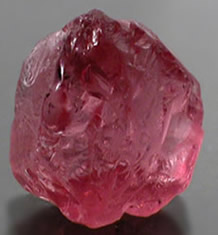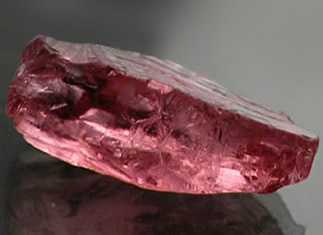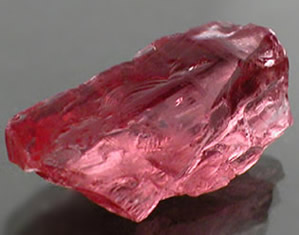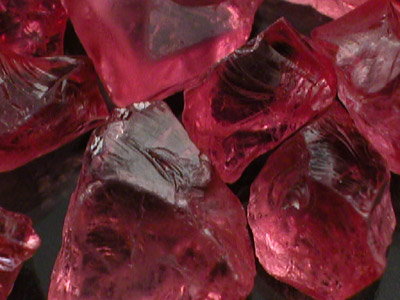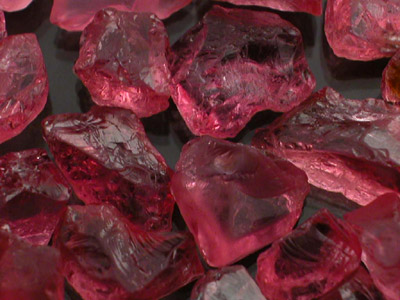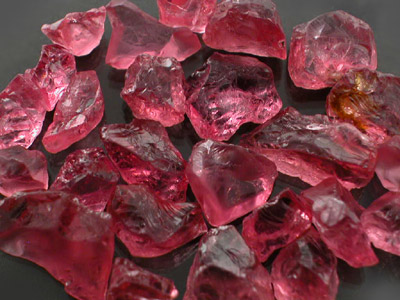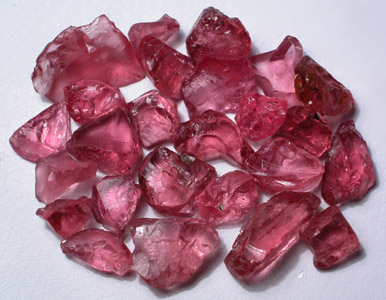 THE LAST PICTURE WAS SHOT ON A WHITE BACKGROUND FOR COLOR CONTRAST!
COLOR:
Bubbalicious Pink to Neon Electric Hot Pink
CLARITY:
Will cut FLAWLESS to slightly included stones for the most part (75%+ High to Top Facet Grade)
ORIGIN:
Gorno Badakshan, Pamir Mountains, Tajikistan
SIZE:
Stones range in size from approximately 4.50 to 13.50 Carats (8.10 Carat Average)
WEIGHT:
202.50 Carats (25 Pieces)
40.5 Grams
PRICE:
$4,050.00 ($20.00 Per Carat / $100.00 Per Gram)
DESCRIPTION:

WOWWWWWWWW FOLKS! That is all I can say! The color and size on this material sells itself! For the price we have on this it can probably be sold locally for a profit and it is a lot we STRONGLY RECOMMEND for anyone interested in Pink Spinel Rough. Please Note that the last picture was shot on a white background.

In close to a decade we have only seen Pink Spinel from Tajikistan in the rough on a handful of occasions and usually in large sizes with unaffordable prices for everyone to enjoy a stone! The color on this is THE MOST INSANE PINK you will probably ever see! This material is from the Tajik/Afghan border, officially from Tajikistan from the Pamir Range in Gorno Badakshan (a stones throw from Afghanistan). The area is unfortunately extremely hot for drug trafficking (Heroin) and as a result everyone who crosses the border is practically strip searched. There are only a handful of people capable of transferring this material out of Tajikistan through Afghanistan because of the "right connections." There are others transferring it through other routes through Russia and we have been hearing that the Russian Mafia is directly involved in the other trading routes. This material is EXTREMELY limited and rarely available.

It is rare to get clean stones from Tajikistan nowadays especially in the larger sizes and prices on location can go up to $2,500 Per Gram depending on size! We are working on securing additional material in larger sizes and better quality but it is a daunting task competing for the material. Overall most of this material is extremely clean and should cut eye-clean to very slightly included with a little effort. The color saturation on these and the fact that the lot is running roughly 75%+ High to Top Facet Grade makes this lot a must have! Some of these stones do have some minor inclusions; however, many will facet out or mast up well. There are a few stones that need to be divided to produce the cleanest stones possible; however, this is one of the cleanest parcels we have had the opportunity to offer and it will undoubtedly produce stunning finished stones. We don't anticipate getting much more of this material in the near future (at least on any significant scale beyond a trickle here and there). Don't miss your opportunity to pick this up! At $100 per gram you CAN'T afford not to!!!!
NEON GREEN TO TURQUOISE BLUE
Lot: Pak-TourmalineStoned-1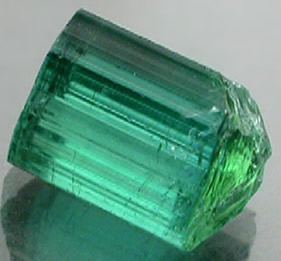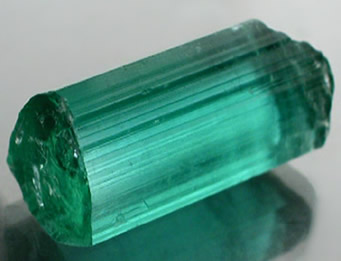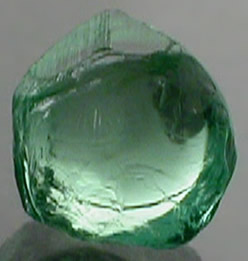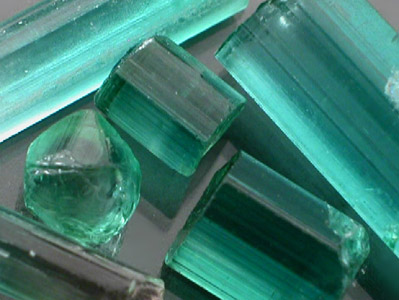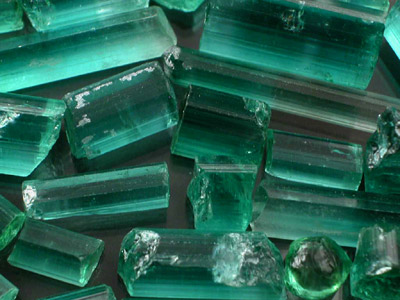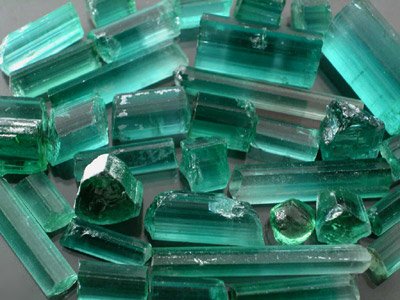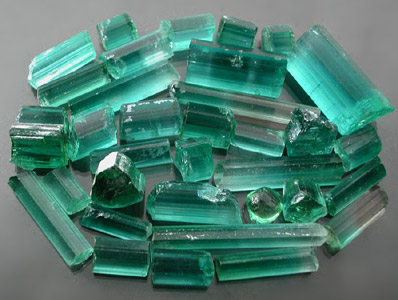 COLOR:
Electric Blue to Electric Green, Minty Green, Neon Bluish Green, Neon Blue to Neon Green, Pastel Pink, Sea-Foam Green, Turquoise Blue to Turquoise Green
CLARITY:
Will cut eye-clean to slightly included stones (85%+ High to Top Facet Grade)
ORIGIN:
Laghman, Afghanistan
SIZE:
Stones range in size from approximately 3.50 to 44.50 Carats (9.44+ Carat Average)
WEIGHT:
330.50 Carats (35 Pieces)
66.1 Grams
PRICE:
$5,000.00
DESCRIPTION:

Awesome lot of Neon Bluish Green to Electric Turquoise Blue Afghan Tourmaline Crystal Faceting Rough. I think the pictures above say all there is to be said; however, for those of you that like to read:

This is the material that has made Afghan Tourmaline the benchmark in Tourmaline perfection! This color is for Afghan Tourmaline what Velvet Blue is for Kashmiri Sapphire! It doesn't get MUCH better than this. The color of this material speaks for itself and is guaranteed to leave you breathless!

This is HIGH GRADE rough for top custom cutting and all of these are chunky crystal sections (All of the stones in here are practically preformed because of the crystal structure of Tourmaline). All of these are a nice size with the average being about 9.50 CARATS! PLEASE NOTE: There are two stones in the parcel that are extremely clean and weigh in at about 5 & 9 Grams. These two are the CROWN pieces in the parcel! They do have some inclusions and the lot has been priced accordingly. Were the two stones flawless they would sell for roughly $4,000 locally!

The lot as a whole is running roughly 85% High to Top Facet Grade and most of the stones in this lot will cut eye-clean or better with the bulk being able to facet 10x clean. Some stones do have minor inclusions; however, most of these inclusions are concentrated on the periphery and should facet out with a little planning and hard work or mask up well. There are a few exceptions where you will have to spend some time planning and trimming to get the cleanest stone possible; however, I don't think you should have a problem getting an eye-clean or better finished stone from most pieces in the parcel!

COOL FACTS:

Afghan Tourmaline pockets tend to be relatively small in size and as a result consistency in color & quality is a rarity! We have never seen Afghan Tourmaline sold by the kilo with like colored and quality material and lots are generally small in size seldom going over 1/2-1 kilo.

All Afghan Tourmaline is exhumed from primary deposits and as a result mining costs are considerably higher due to dynamite expenditures and traveling expenditures to get to remote mining areas. It is also interesting to note that since all Afghan Tourmaline is from primary deposits most rough will usually have sharp crystal faces.